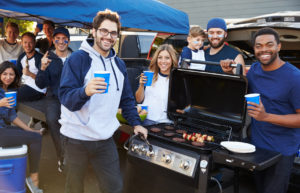 Football season has arrived! Take your crew to a game and experience the ultimate pre and post-game good times! Party buses are exactly what they sound like—a slammin' party on wheels. There are lots of great benefits and advantages of contracting a party bus with your friends for the next football game…
The Ride is Half the Fun
What's better than starting off your pre-game fun the moment you and your group enter the bus, and continuing all the way to the game? You'll get to see the town without concern about times and directions. Your driver will already have a great knowledge of the city and will be able to show you the sights while you spend time with your friends. Our buses hold 15-20 guests at a time.
Less Stress
When everyone rides together, there's no stress or worry about your guests getting lost or left behind. No worrying about logistics; no caravan. One group, all together, allows for ease of mind and party time from the beginning of the ride to the end.
Easiest Tailgating – No Parking Problems
Bring whatever beverages and foods with you to tailgate all the way to the stadium. Your pro driver will drop your group off at the front door and pick you up wherever you want to be retrieved afterward, so no walking half a mile after parking in some field. No worrying about saving consecutive spaces, long parking lines, or getting there super early to save 10 spots. And no expensive fees for each car parking in the lot, either.
Safe and Legal Travel Before and After the Game
On your football trip, nobody has to be a designated driver. Because you get door-to-door service, there's no worry about driving home after having too much fun. Say no to unsafe driving and to DUIs. Nite Trane drivers are knowledgeable, courteous, certified, and insured drivers who will make sure your party is safe and having a great time.
Good to Your Budget
Riding our party bus will certainly feel like a luxury, but the truth is your group can save money by avoiding the cost of 10-20 car trips of gas, parking, and hassle. You also have entertainment during the entire ride there and back at no extra cost. Being able to bring your own refreshments further cuts your expenses. Nobody needs to worry about getting hurt or the expenses that go with that; including life-altering DUI tickets. Splitting the cost of the bus with your pals means you pay one affordably low package fee up front with no more worries on your trip.
You can trust Nite Trane Transportation to make sure your group has a great time safely and affordably. Call us at 612-239-1019 or click here to reserve a party bus for your next football outing.