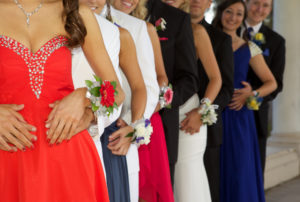 Your high school prom is one of the nights you will remember for the rest of your life, so you might as well go in style. When you rent a party bus, you and all your friends can be together—from pick-up at each house with pictures, all the way through the dinner and dance, then back home again.
Prom-goers will have a blast every step of the way and parents will have peace-of-mind that everyone is together with a safe ride home at the end of the night.
Here are our top four reasons to rent a party bus for your prom:
Safety First
It's a given that on prom night, parents are going to worry about their kids getting home safely at the end of the night. But it doesn't have to be that way. Erase this one worry from their minds by ensuring a safe pick-up and drop-off for everyone. Our experienced, professional drivers will see to it.
The More (Really Is) the Merrier
What could be more fun than all 20 of you together in one party bus? Make the most of this one big night by renting a party bus, complete with cool optical lighting and Bluetooth capability. We'll even provide complimentary ice and cooler.  What a fun way for your group of friends to celebrate the night of your life!
Convenience
Prom can be a logistical nightmare. Shuffling around from one house to the next for pictures—without leaving anyone out—then getting everyone to their dinner reservations, and then to the grand march (on time!). Coordinating such a feat with 10 couples in 10 cars can be a challenge, at best. When you rent a party bus, everyone is together for every magical moment. Just the way it should be on prom.
Arrive in Style
You're all dressed up in prom gowns and tuxes, hair and nails are done, makeup is meticulous—do you really want to roll up to prom in your parents' minivan? We think not. Let us give you a luxurious ride on this one night that is all about style and fun. At Nite Trane Transportation, our fleet of well-cared-for vehicles is in top condition and an elegant way to show up to prom.
Renting a party bus is the best way to enjoy all the festivities of your prom night—safely. Contact us to learn more about our fleet options and pricing.