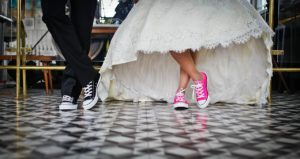 Once the knee was bent and the answer was, "Yes!" the happy couple can quickly go from overwhelmingly happy to overwhelmingly stressed. There are so many decisions to make from setting the date, choosing the colors, finding the perfect dress and more. One of the decisions many couples don't think of until late in the wedding planning process is transportation. Planning wedding transportation can be easier than you think, so let's learn more about doing just that. 
Start Early
It seems that with any transportation, from booking a limo for the wedding night to the roundtrip flights for the honeymoon, the earlier you make your decision the more money you'll save. Not only does this help with the event budget, but the transportation decisions can be made soon after the date is set, and relatively easily. Check this task off the to-do list and you won't have to worry about it.
Have a Budget
Again, wedding transportation is something often forgotten about until later on in the planning. The budget for the event should be set fairly soon, so everything can be planned without exceeding it. There's no reason to start a new life together with hefty credit payments. Be sure to add the wedding transportation costs to your budget.
When Calculating the Number of Guests, Round Up
Fancy transportation for the two of you may be a given. But what about transportation for the rest of your guests? You'll want to safely get them to the reception and back to their homes or hotels afterward without having to worry about them. You may also want to travel with the rest of the wedding party. Transportation via van, bus, limo or another type of vehicle can also be a great idea for the bachelor or bachelorette party. 
You should round up the number of people you plan on for each transport, so you know there will be space for everyone, even if not everyone plans on utilizing the transportation service, at first. They may decide later that it's a safer idea, especially after the fun of the celebration.
Look at Multiple Options
There are more than just a couple of choices when it comes to the various types of transportation you may need for the entire wedding event. While you may already have something in mind, you may have options you aren't aware of. Be sure to ask what options will work based on the number of people and your budget. You might just be surprised.
Nite Trane provides professional and reliable transportation services for weddings, concerts, sporting events and more. If you are looking for affordable transportation for a wedding, bachelor party or bachelorette party and you want dependable, on-time service, be sure to call Nite Trane at (612) 239-1019 or book online.