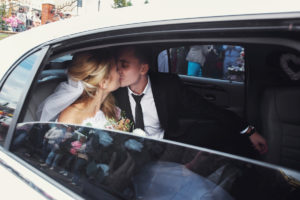 Wedding transportation needs run the gamut from airport pickups to wedding night safe rides. Lucky for you, we specialize in all of them. If you are planning a wedding, don't overlook the transportation — the critical piece that will ensure the weekend runs like clockwork.
One call to us can cross many items off your to-do list. Here's how we can help:
Bachelor and Bachelorette Parties
When the guys and gals plan their evenings of fun, let us be the ones to give them a safe ride. Our party buses will hold 15-20 people and come with cool lighting and Bluetooth capability. We will bring the ice and cooler, you fill it any way you wish. We will make sure you get everywhere you want to go and back home safely.
Airport Transportation
Air travel is stressful enough without the added worry of securing rides to and from the hotel. Give your guests the red-carpet treatment with thoughtful airport service. Our professional drivers will gladly greet them at the airport for a welcoming touch and provide shuttle service to and from the hotel. Your guests will feel like royalty and you will have peace of mind your guests are well taken care of.
Rehearsal Dinner
There are so many unique wedding rehearsal options available in the Twin Cities, including vineyards, pub crawls, cooking classes — even sporting events and boat cruises. But for guests who are new in town for the weekend, getting around can be tricky. Take away the guesswork and let us pick them up and drop them off so all they have to worry about is having fun.
Wedding Ceremony
Our stretch limousines are luxurious and elegant and will ensure a classy and traditional send-off from your wedding ceremony. We'll even deck it out with a "Just Married" sign, balloons, and crystal champagne glasses for your first private toast as Mr. and Mrs.
Reception Transportation
The last thing you want to worry about on your wedding night is whether your guests made it home safely at the end of the night. Our courteous drivers will take good care of your wedding party and guests, ensuring safety for all.
At Nite Trane, our drivers are committed to serving you and your guests so you can enjoy all the events of your wedding weekend, worry-free. Contact us to learn more about our special wedding packages and how we can help make your wedding the happiest day of your life.